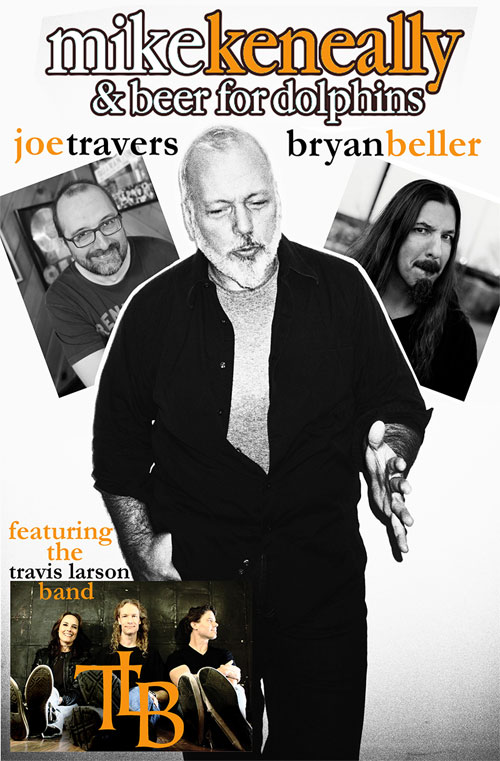 Innovative multi-instrumentalist and vocalist Mike Keneally and Beer For Dolphins are set to perform at Roxy & Dukes in Dunellen, New Jersey on Saturday, October 29, 2016. This concert also includes special guest Travis Larson Band and is produced by NJProghouse.
Mike Keneally (guitars, keyboards and vocas) has been playing with Joe Travers (drums) and Bryan Beller (bass) since 1993, when they were members of the Dweezil and Ahmet Zappa band Z. Throughout the 1990s, as Mike Keneally & Beer For Dolphins, they played frequently on the West Coast in support of Keneally's solo albums hat., Boil That Dust Speck and Sluggo!
Even though Keneally has worked with countless brilliant musicians throughout his solo career, fans have long held a special appreciation for the high energy, humor, camaraderie and virtuosity of the Keneally/Beller/Travers triumvirate. Now finally, after more than two decades, this powerful trio version of MK/BFD is coming to states in the Midwest and Northeast of the US, and playing music covering the gamut of Keneally's career, from those classic 1990s releases all the way up to the brand new Scambot 2.
Mike Keneally has played with Frank Zappa, Steve Vai and many others, in addition to his long-standing solo career. He and Bryan Beller currently play together in Joe Satriani's band, and have toured extensively in the metal band Dethklok. Beller is also a member of the instrumental powerhouse The Aristocrats. Joe Travers, in addition to past drumming work with Zappa Plays Zappa and Duran Duran, has held the position of Vault administrator for the Zappa Family Trust since the 90s, exhuming unreleased Frank Zappa tapes for release to the public.
Mike Keneally & Beer For Dolphins will be touring with special guest Travis Larson Band. With six studio albums and two full-length DVDs, the award-winning TLB is firmly rooted as one of instrumental music's premier acts, having worked on records with Steve Lukather (Toto), Victor Wooten (Bela Fleck), Dave LaRue (Joe Satriani, John Petrucci, Dixie Dregs), Vinx (Sting, Herbie Hancock). Travis Larson Band will release a new album in 2016.
when: Saturday, October 29, 2016 | 2:00 p.m. show | 1:30 p.m.Doors
where: Roxy & Dukes, 745 Bound Brook Rd, Dunellen, NJ
Cost: Online Presale $27
Walk ups day of show $35 (Cash Only) Beginning at 1:30 p.m.
Tickets at www.brownpapertickets.com