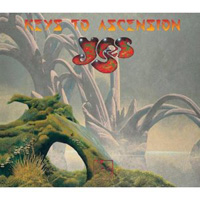 In 1995, progressive rock band Yes reformed its most celebrated line-up: Jon Anderson on vocals, Chris Squire on bass, Steve Howe on guitars, Rick Wakeman on keyboards and Alan White on drums. This reunion was greeted with anticipation by millions of fans worldwide.
New studio tracks were recorded at Yesworld studios in San Luis Obispo, California throughout the winter of 1995 and spring of 1996. They then embarked on a series on a series of live concerts in March 1996 at The Freemont Theatre in San Luis Obispo, performing timeless classics from all phases of their career.
The result was Keys To Ascension. The 5-disc box set presents for the first time all of these performances in one package. The original artwork is by Roger Dean.
Track Listings
Disc: 1 – Recorded Live at San Luis Obispo 1996
1. Siberian Khatru
2. The Revealing Science Of God
3. America
4. Onward
5. Awaken
Disc: 2 – Recorded Live at San Luis Obispo 1996
1. Roundabout
2. Starship Trooper
3. Studio Tracks Recorded 1996 – Be The One
4. That, That Is
Disc: 3 – Recorded Live at Recorded Live at San Luis Obispo 1996 – 1996
1. I've Seen All Good People
2. Going For The One
3. Time And A Word
4. Close To The Edge
5. Turn Of The Century
6. And You And I
Disc: 4 – Studio Tracks Recorded 1995/1996
1. Mind Drive
2. Foot Prints
3. Bring To The Power
4. Children Of Light
5. Sign Language
Disc: 5 – DVD Recorded Live at SLO 1996
1. Siberian Khatru
2. Close To The Edge
3. I've Seen All Good People
4. Time And A Word
5. And You And I
6. The Revealing Science Of God
7. Going For The One
8. Turn Of The Century
9. America
10. Onward
11. Awaken
12. Roundabout
13. Starship Trooper