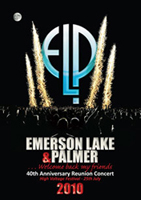 Legendary progressive rock band Emerson Lake & Palmer (ELP) reformed for the first time since 1998 for their final show to headline the High Voltage Festival in London on Sunday, July 25th 2010. The concert celebrated the 40th anniversary of the creation of Emerson Lake and Palmer. Now it's available on DVD under the title Emerson Lake & Palmer – 40th Anniversary Reunion Concert.
Emerson Lake & Palmer was a predominant force in the foundation of progressive rock. The band consists of Keith Emerson, the explosive keyboard who came from the Nice, the sultry vocals and extraordinary bass of Greg Lake from King Crimson and the theatrical and extraordinary drumming of Carl Palmer, who emerged from Atomic Rooster.
The 40th Anniversary Reunion Concert video is a show that brings back the same theatrics that the highly creative combination of Keith Emerson's legendary keyboards, Greg Lake's extraordinary voice, and the dramatic drumming of Carl Palmer brought to their core fan base and to the new generations.
Song list:
Karn Evil 9: 1st Impression – Part 2
The Barbarian
Bitches Crystal
Knife Edge
From The Beginning
Touch and Go
Take A Pebble/Tarkus
Farewell to Arms
Lucky Man
Pictures At An Exhibition
Fanfare for the Common Man/Drum Solo/Rondo
Bonus Materials:
– Interviews with managers, Rock music journalist, tour manager and archivist.
– Contains brand new interviews by Rock DJ Nicky Horne with Keith Emerson, Greg Lake and Carl Palmer