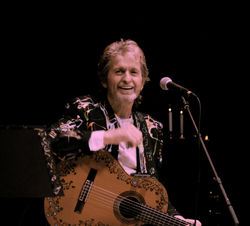 Progressive rock legend and original Yes vocalist Jon Anderson will be playing a series of exclusive solo concert dates during December of 2011 in South America. Jon Anderson, who has one of the most recognizable voices in rock music, and is best known for his work with progressive rock band Yes, Vangelis and Kitaro, as well as his innovative solo efforts, recently completed a successful tour of the east coast in the United States with fellow Yes member Rick Wakeman.
Jon's South American solo tour promises to deliver an exciting mixture of material from his prolific solo career, collaborations with Vangelis and classic Yes songs, along with new compositions from his new CD 'Survival & Other Stories'.
Jon recently released an epic musical work titled "Open." The recording is a return to the long-form composition that Jon Anderson is best known for, ("Close To The Edge", "Gates of Delirium", "Revealing" and "Awaken"). Open is a 21-minute musical journey; a pioneering effort that weaves intricate melodic and harmonic themes within a classical music framework whilst showcasing Anderson's iconic vocals and timeless melodies throughout.
Jon Anderson South American 2011 Tour Dates:
12/03/2011 – Floripa Music Hall – Florianopolis, SC, Brazil
12/07/2011 – Teatro Oriente – Providencia, Santiago, Chile
12/09/2011 – Teatro Bourbon Country – Porto Alegre, RS, Brazil
12/10/2011 – Bolshoi Pub – Goiania, GO, Brazil
12/13/2011 – Citibank Hall – Sao Paulo, SP, Brazil