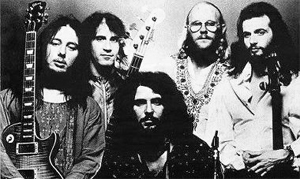 This week's music video is a live performance by Gentle Giant, one of the greatest progressive rock bands of all time.
Gentle Giant was founded in 1970 by the brothers Shulman. Derek was the lead vocalist and played alto sax and bass, Ray sang and played bass & violin, and Phil handled the saxophone and added vocals. The rest of the band included Kerry Minnear, on keyboards, who came straight from the Royal Academy of Music. Gary Green, a musician with a blues background, became the guitarist. Martin Smith was on drums.
Gentle Giant's use of complex classical chord and time patterns, together with rock, blues, jazz and medieval melodies and themes, set them apart from other progressive rock groups of their time.