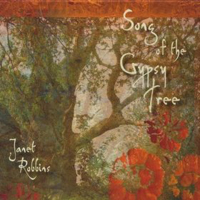 Janet Robbins
'Song of the Gypsy Tree' (Star 7 Records, 2010)
I've always been interested in dark folk and deep space ambient music. Janet Robbins is an impressive discovery in this field. Her new album titled 'Song of the Gypsy Tree'
introduces a magical and mesmerizing collection of poetry combined with remarkable overdubbed vocals, ambient music, whispering voices, electronic beats, beautiful distant vocals and choruses, global music samples and acoustic instruments such as the piano and frame drums.
"I'm singing on this album – there's more compositional structure for the lyric, although there are formless passages of lyric as well," explains Janet. "Sonically I still draw from a source of tone and musicality, that seems to reside in middle earth and deep space. I do feel the quality of journey and travel still exists within the music."
Janet Robbins introspective lyrics are richly poetic with themes of love, the environment, nature, science fiction, dreams and mystery. She composed, wrote and performed most of the music. Robbins is an accomplished piano player and also uses a wide variety of electronic keyboard sounds. Two percussionists, Chris Armstrong and River Guerguerian participated in the album.
"For me, the album is about relationship of all kinds," says Janet, "the struggles we create when we ignore our relatedness to one another, the animal kingdom, and to the environment, and the offerings of the natural and spirit world and the surrender that's needed."
"I think we have the gift of almost unlimited creation and a responsibility for what/the world we create," adds Janet. "So cook a great meal and share it with friends! Sing a little tune to someone on the street, turn a moment into a radical departure from social dictates, use your voice and break the numbing acquiescence of a collective sleep. But enjoy life."
'Song of the Gypsy Tree' conjures a futuristic, mysterious world with an impressive range of layered vocal talent and hypnotic deep space ambient sounds. An extraordinary album by new dark ambience talent Janet Robbins.