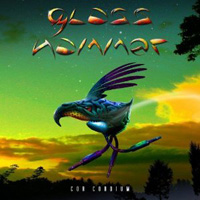 Glass Hammer
Cor Cordium (Arion Records, 2011)
The latest offering by progressive rock band Glass Hammer contains all the ingredients that make this musical genre so special: superb musicianship and captivating artwork. Cor Cordium begins with a suite loaded with state of the art keyboard work that includes glorious mellotron, organ and synthesizers.
Cor Cordium is Glass Hammer's fourteenth studio album. It's a follow-up to last year's much-admired album titled If. It's a delight to see a band that continues to develop long-form symphonic pieces of epic nature. Cor Cordium contains four suites, all of which are over ten minutes long, and two shorter pieces. If you like a mix of vocal parts with state of the art keyboard and guitar work, then you'll really enjoy this latest offering by Glass Hammer.
Stylistically, the band is clearly influenced by the British masters of the early 1970s. Yes appears as a strong influence, especially in the vocals, guitars and some of the keyboard work. However, keyboardist Fred Schendel also displays influences from Keith Emerson and the band goes into Gentle Giant and fusion territory on track 3, 'Salvation Station' and folk rock in a section of 'Dear Daddy'.
The line-up on this album includes Fred Schendel on keyboards, steel guitar, backing vocals; Steve Babb on bass guitar, keyboards, backing vocals; Jon Davison on lead vocals, acoustic guitars; and Alan Shikoh on electric and acoustic guitars and sitar. They are joined by Randall Williams on drums, Jeffrey Sick on violin on 'Dear Daddy' and Ed Davis on viola on 'Dear Daddy.'
"We never set out to make If Volume 2," says Babb. "But we are definitely heading in the same direction musically. Fans that loved IF are going to be equally excited about Cor Cordium."
The CD version comes with captivating fantasy artwork and a 16 page full-color layout by artist Tom Kuhn and audiophile mastering by Bob Katz of Digital Domain.
Cor Cordium is a lovely and beautifully crafted progressive rock album by one of the finest bands in the genre.