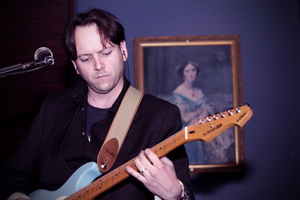 Australian progressive rock sensation Ben Craven has released a video with his personal highlights from the Great & Terrible Potions album launch. "No Specific Harm was great fun to play," says Craven. "The longer songs really give a performer the chance to get lost in the moment. Plus there's a good old-fashioned guitar solo at the end."
Craven recently released his second album, Great & Terrible Potions. The album blurs the boundaries between conventional songs and orchestral soundtracks. The cover was designed by legendary graphic artist Roger Dean, who made the renowned covers for Yes, Uriah Heep, Greenslade and Asia.
Great & Terrible Potions has been nominated for Album of the Year by Paperlate Rock Radio in The Netherlands.
CD (North America)
Digital Download (North America)
CD (Europe)