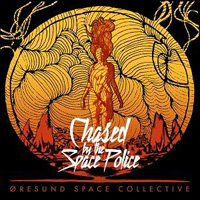 The new single by Danish psychedelic progressive rock band Øresund Space Collective will be available today. Titled "Chased by Space Police" (Prog Sphere Records), the single can be downloaded for free.
The single includes high resolution artwork in PDF, designed specially by Påhl Sundström of Klotet and Villebråd. Chased by the Space Police was recorded during It's All About Delay session on March 10th-11th, 2006 in the Black Tomato Studios, Copenhagen.
Previously unreleased, this track is a journey through space and far beyond. Starting in a progressive rock manner with Hammond taking a lead it develops further towards more psychedelic space-led sound. Clocking a little over 13 minutes, Chased by the Space Police is a good introduction to what can be expected throughout 2012.
Available at Prog Sphere Bandcamp's profile on: http://prog-sphere.bandcamp.com