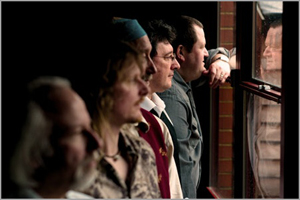 British prog bands Credo and Comedy of Errors will be touring the UK together in February 2012. Credo will present music from their successful Against Reason album.
Credo
Credo was formed in 1992 by guitarist Tim Birrell, bassist Jim Murdoch, lyricist and keyboard player Mick Stovold, drummer Paul Clark and vocalist Mark Colton. The band played their first live show in Aldershot in April 1992 as Ad Hoc, temporarily changing their name to Chequered Past before settling on 'Credo' in 1993.
Credo released their debut album – Field of Vision – in 1994, to some success in the UK and Neo Prog strongholds across Europe. The original intention was just to sell the album at gigs on cassette, but UK label Cyclops approached the band, signed them up and released the album on CD shortly after.
Extensive touring followed, when suddenly Mick Stovold decided to leave the band. His replacement, keyboardist Mike Varty (Landmarq, Shadowland, Janison Edge, Mick Pointer's Marillion / Script For A Jesters Tour), marked the emergence of the Credo we hear today.
Following a horrific run of bad luck, ill health and assorted disasters, Credo continued with a new drummer, Martin Meads. Their second album titled Rhetoric came out in 2005 on the F2 label. The Rhetoric Tour culminated in a fabulous show in Katowice, Poland that was released as a double live album and DVD – This is What We Do.
Credo's latest album, Against Reason, was released on 11 April 2011 on the F2 label. The current line-up includes Mark Colton on vocals & percussion, Mike Varty on keyboards & backing vocals, Tim Birrell on electric & acoustic guitars, Martin Meads on drums, Jim Murdoch on bass & backing vocals.
Comedy of Errors
Progressive rock band Comedy of Errors was founded in January 1984 with members coming from in and around the Glasgow area, Scotland. The line-up included vocalist Joe Cairney (vocals), keyboardist Jim Johnston, drummer John MacPhee, guitarist Mike Barnard and bassist Steve Stewart (bass), who was replaced by Mark Spalding. Various lineup changes followed as did the music and eventually the project faded away.
One man however kept faith in the original concept, dropped out of the prog scene completely, stayed in his room, kept writing new material and revising songs and waited…and waited…. It was hoped these mini-rock symphonies would, at some point in the future, see the light of day and find an appreciative audience. And so it was, thanks to those who kept faith in the music, the new incarnation of Comedy Of Errors came to release their debut album Disobey. The line-up on Disobey features original members Joe Cairney (vocals), Jim Johnston (keyboards, guitars), Mark Spalding (guitars, bass and backing vocals. Guersts include Bruce Levick on drums and Hew montgomery on bass.
Tour Dates
Thursday 2nd February
Riffs Bar,
Greatfield Swindon, SN4 8EQ Doors 7.00
Friday 3rd February
The Lexington,
Pentonville Road, London
Doors 7.30pm
CRS Shop
Saturday 4th February
The Wesley Centre,
Maltby, Rotherham
Doors 7pm
CRS Shop
Sunday 5th February
B2, Brickmakers, Norwich
Doors 7pm
CRS Shop