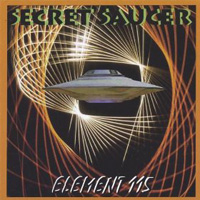 Secret Saucer
Element 115 (DERNCD 88, 2005)
Element 115 is the debut album by American space rock superband Secret Saucer. The group was formed in 2001 with members from various psychedelic and space rock bands, including Architectural Metaphor, Quarkspace, Star Nation, Nick Riff, Sun Machine, and Blaah.
On Element 115 you will find an excellent collection of instrumental pieces that combine the finest of psychedelic and progressive space rock. The group has carved its own niche, although you can hear influences from space rock pioneers Pink Floyd, Hawkwind and more recent acts like early Porcupine Tree and Ozric Tentacles.
The album was recorded during one long weekend jam. The musicians improvised on dual guitars, lots of synthesizers, bass and drums. However, the mesmerizing combinations of slide and glissando guitars, adequate drums, bass and electronics has cohesion and rich melodic content.
The participants in the album are Paul Williams on synthesizers and drums (Quarkspace, Church of Hed); Greg Kozlowski on guitar and bass (Architectural Metaphor), Jay Swanson on piano, synthesizers (Quarkspace), Steve Taylor on guitar, bass, drums (Star Nation, Sun Machine), Steve Hayes on synthesizers, bass (Star Nation, Sun Machine), Thomas Marianetti on drums, synthesizers (Sun Machine, Nick Riff), Bill Spear on bass (Sun Machine), Dan Schnell on acoustic & electric guitar (Sun Machine), Dave Hess on synthesizers, gliss (Blaahh).
Element 115 is an introduction to one of the finest space rock jam bands in recent times. Secret Saucer has released more albums which will be reviewed in future articles.
CD
Listen to samples and buy digital tracks