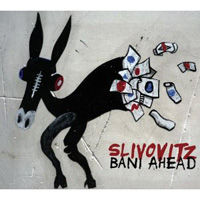 Slivovitz
Bani Ahead (Moonjune, 2011)
Naples-based fusion jazz band Slivovitz has a new album titled Bani ahead. With this recording, Slivovitz continues to explore the boundaries between jazz-rock, traditional music, avant-garde chamber music and freeform improvisation.
Bani Ahead presents Balkan and Gypsy music influences, American blues, a delectable melodic piece titled 'Fat' and powerful jazz-rock explorations.
The current line-up of the band includes Domenico Angarano on bass guitar, Salvatore Rainone on drums, Derek Di Perri on harmonica, Marcello Giannini on guitars, Pietro Santangelo on saxophone, Riccardo Villari on violin, and trumpet player Ciro Riccardi.
The band Slivovitz was founded in September of 2001 from a spontaneous jam in the streets of Naples. Since then, it hasn't stopped morphing, growing, changing form and direction, but always in the line of instrumental music related to ethnically-tuned jazz rock.
Bani Ahead will please the fans of improvisatory jazz-rock with world music elements.