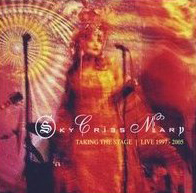 Sky Cries Mary
Taking The Stage: 1997-2005 (Trail TR-009, 2011)
Taking The Stage: 1997-2005 is a live collection of some of the best pieces by legendary Seattle psychedelic rock outfit Sky Cries Mary. The band's sound is a fascinating mix of psychedelic space music with alternative rock and trance electronics. Sky Cries Mary
is characterized by the outstanding vocal interaction of husband and wife lead singers Roderick Romero and Anisa Romero, along with technicolor guitars, electronic beats and loops, drumkit, bass and ambient synthesizers.
The live performances were recorded at different times and on different location. Some of the pieces were previously released on the out-of-print album "Here & Now". Taking The Stage: 1997-2005 was edited, remastered and produced with improved sound quality. "The resulting mix cannot be quantified," says Roderick Romero. "It must be heard to be experienced. In fact, it cannot be heard without experiencing it."
The musicians that participated in the recordings include Roderick Romero and Anisa Romero on vocals, Michael Cozzi on guitar and programming, Ben Ireland on drums and percussion, Juano on bass, William Bernhard on guitar and keyboards, Jill Wangsgard on keyboards and acoustic guitar, and Todd Robbins (DJ Fallout) on keyboards and sound effects.
Sky Cries Mary's Taking The Stage: 1997-2005 is an impressive collection of dreamy and surreal space rock, insistent psychedelia and futuristic trance music.
Buy the CD, MP3s or listen to samples at