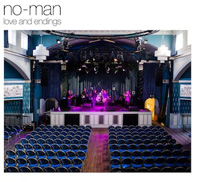 The new live album Love and Endings is a document of No-Man's powerful performance at the Leamington Spa Assembly on October 14th, 2011. It is scheduled for release March 12th. The album features the British band's core duo of Tim Bowness and Steven Wilson joined by classical violinist Steve Bingham and regular collaborators Michael Bearpark, Andrew Booker, Stephen Bennett and Pete Morgan.
Love And Endings retains the intimacy and sophistication of No-Man's studio work while adding an edgy rock component absent from much of its recordings. The pieces are drawn from all stages of No-Man's music.
Love And Endings includes the previously unreleased song, Beaten By Love, which dates from the earliest days of the band.
The album will be available in CD/DVD (deluxe digipack) and limited edition heavyweight double vinyl (in gatefold sleeve) formats.
A free download of a track from the album is available here