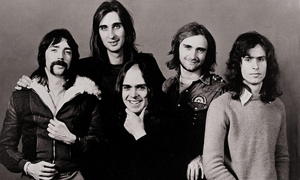 This week's music takes us to 1973, to a classic piece by Genesis, one of the legendary progressive rock groups of the 1970s. 'Dancing with the Moonlit Knight' is included in the 1973 masterpiece Selling England by the Pound.
This music video shows Genesis during a 1973 concert. Vocalist Peter Gabriel appears dressed in costume "Britannia" which he wore during the performance of 'Dancing with the Moonlit Knight.' Selling England by the Pound is Genesis' fifth studio album. It followed Foxtrot and became the most successful album up to then.
Genesis was one of the best and most influential progressive rock groups of all times. The classic line-up during its progressive rock era included Peter Gabriel on vocals, Steve Hackett on guitars, Tony Banks on keyboards, Mike Rutherford on bass and Phil Collins on drums. After Peter Gabriel and Steve Hackett left, Genesis changed direction and became a very successful pop band.
Throughout the 1970s and in the following decades dozens of progressive rock bands were inspired by Genesis. The most notable include Marillion and IQ.