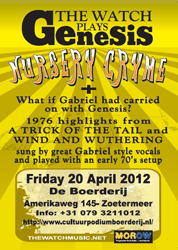 Italian progressive rock band The Watch will be touring Europe Marc-May. Their latest project is called The Watch Plays Genesis, with an early 1970s setup, focusing on the classic progressive rock-era Genesis line-up.
The Watch is a 5 piece band from Milan. Their music is inspired by classic style progressive rock of the 1970s and in particular by the music of Genesis. The band's first album was released in 2001, titled Ghost.
Vacuum came out in 2004, followed by Primitive in 2007. Two years later, the Watch released its first live album, The Watch Live.
The lineup of the band has changed several times through the years. Simone Rossetti, founder and main composer is the singer of the band since the very first time. Simone Stucchi has produced all The Watch records and he's still there, following the band on stage as sound engineer.
Since the end of 2008, the band has the best line up ever, according to Rossetti.
The current line-up includes Giorgio Gabriel on electric guitars, 12 strings acoustic guitar, classical guitar; Guglielmo Mariotti on bass, bass pedals, 12 strings electric and acoustic guitars, vocals; Valerio De Vittorio on pianos, Hammond L122 organ, mellotron, arp and moog synths, vocals; Simone Rossetti on vocals, flute, tambourine, mellotron and moogs (studio); Marco Fabbri on drums, percussions, vocals.
The Watch plays Nursery Crime and more old fashioned Genesis:
http://youtu.be/47CpEa0HF3
March 3
The Musician
Leicester
UK
March 3
The Ferry
Glasgow
UK
March 9
Le Triton – Paris ,
France
March 10
On Air Studio Mons, Be Support by Franck Carducci Special guest: John Hackett
March 16
Steinbruch Café
Duisburg D
March 17
Bergkeller
Reichenbach D
March 18
Chapel
Goppingen D
April 20
De Boerderij
Zoetermeer NL
April 21
Bunde De
April 22
Spirit of 66
Verviers Be
April 28
The Flowerpot
Derby UK
April 29
The Robin
Wolverhampton UK
May 11
Colossaal
Afschaffenburg DE
May 12
DruFabriek,
Ulft NL + Marathon!
May 18
Schaafs City Theater
Leeuwarden NL
May 20

Vevey CH
more gigs at their website www.thewatchmusic.net