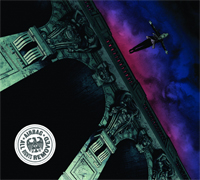 Airbag
All Rights Removed (Karisma Records, 2011)
Norwegian band Airbag has attracted the curiosity of Pink Floyd music fans with its attention-grabbing mix of progressive space rock and melodic rock. Imagine the offspring of Coldplay and Animals-era Pink Floyd and that will give you an idea of the group's sound.
The Coldplay influence is larger in the vocal parts, which have a melancholic soft rock feel. Airbag's music really takes off when they venture into the instrumental sections with tasty keyboard atmospheres and guitar riffs and solos that would make David Gilmour proud.
Most of the pieces are pretty lengthy. The only short piece is a beautiful instrumental piece titled 'Light them All up.' The album ends with an excellent 17:21 suite titled 'Homesick' which is divided into 3 parts.
The band members featured in the recording are Anders Hovden on bass; Asle Torstrup on vocals, programming, keyboards; Bjørn Riis on guitars, vocals, keyboards; Henrik Fossum on drums; and Jørgen Hagen on keyboards, programming.
With its wonderful combination of elegant melodies and exquisite Floydian space rock, All Rights Removed is definitely an album you will want to have in your modern progressive rock collection.