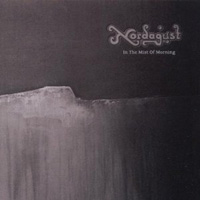 Nordagust
In The Mist of Morning (Karisma KAR054, 2010)
Norwegian band Nordagust is a rising talent in the area of symphonic progressive rock. They are inspired by Nordic mythology and are characterized by a dark, slow-tempo sound with somber vocals, heavy use of grand mellotron, Nordic folk instruments and wailing guitars.
The name of the band Nordagust originates from Nordic mythology. It was the spirit of the north wind, said to be exceptionally knowledgeable, and was believed to have understanding of all things. The life-force was also called "the grieving souls spirit". The founders of Nordagust are very interested in Norse legends and its connections with Scandinavian folk music. Even though the band uses primarily electric instruments like guitars, keyboards and bass, Nordagust also uses the beautiful kantele, a folk zither primarily found in Finland.
Like many of the northern European prog bands, Nordagust has some elements of formulaic heavy metal, with guitar riffs that drown out the mellotron and are totally unnecessary. Dark and brooding atmospheres are certainly possible without the use of metal. Case in point, Norwegian folk singer Unni Løvlid. When Nordagust uses more creative non-metal guitar, it really shows great potential.
The band featured on In The Mist of Morning includes Daniel Solheim on guitars, keyboards, kantele, mandolin, lead vocals; Ketil Berg on drums, percussion and vocals; Knud Strand on bass; Jostein Skjonberg on keyboard, flute, vocals; Sissel Os on keyboards and vocals; and Guro Strand on guitar and keyboards.
Highlights of the album are 'In the Mist of Morning', the kantele-rich 'In The Woods' and 'Frozen.'
Nordagust's debut album In The Mist of Morning shows great promise and will please fans of dark and mellotron-driven progressive rock.