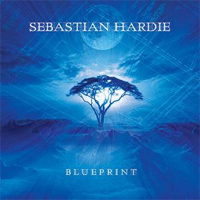 Sebastian Hardie
Blueprint (independent, 2012)
Blueprint is the first studio recording by legendary Australian progressive rock band Sebastian Hardie since 1976's Windchase. Blueprint brings the classic line-up from the 1970s: Alex Plavsic on drums, percussion; Peter Plavsic on bass guitar; Mario Millo on lead guitar, vocals, mandolin; and Toivo Plit on keyboards.
Despite the years, Sebastian Hardie remains loyal to symphonic rock, delivering an album with extensive instrumental passages full of captivating guitar melodies and outstanding keyboard atmospheres, combining classical music, blues and jazz infused progressive rock. Toivo Plit contributes a wide palette of keyboards, including electric organ, epic mellotron and synths. Meanwhile, Mario Millo uses mesmerizing slide guitar, wah wah and other creative guitar effects.
Sebastian Hardie released two excellent albums in the mid-1970s, Four Moments (1975) & Windchase (1976). They disbanded in the late 70s. The band reformed a few times for special occasions. Getting Sebastian Hardie together again for Blueprint was no easy task. All the musicians had their separate careers and while the majority still lived in Sydney, drummer Alex Plavsic was based in Queensland, about 1000 kilometers from Sydney.
Uplifting and delectable, Blueprint is an expertly crafted new album by one of the significant masters of Australian progressive rock.
Music samples and MP3 downloads:
CD available from http://shoponmarsmusic.com