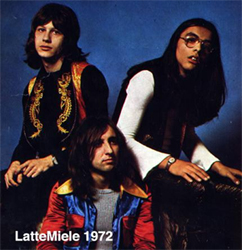 Farfest is a new progressive rock festival that will focus on 1970s and contemporary 70s-sounding progressive rock bands. The first Farfest will take place at the Grand Opera House in Wilmington, Delaware on October 4th – 7th, 2012.
The goal of Farfest is to showcase legendary 1970s progressive rock bands that a lot of music fans only dreamed of ever seeing live and bring them all together in one festival. "Since the 70's era of performing musicians will soon be drawing to a close the time is now for such an event so we offer you this once-in-a-lifetime opportunity to see these classic bands perform," said Greg Walker, one of the organizers of the festival.
Line-up:
Alphataurus (Italy)
Anekdoten (Sweden)
Atoll (France)
Cressida (U.K.)
Latte E Miele (Italy)
Locanda Delle Fate (Italy)
Maxophone (Italy)
Mezquita (Spain)
Pulsar (France)
SBB (Poland)
Shylock (France)
Wobbler (Norway)
The final band will be announced soon.
The website is www.farfest.com and has all the details regarding the festival: line-up, tickets, hotels, travel etc.