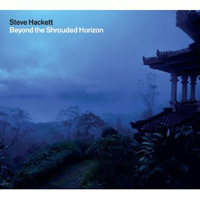 Steve Hackett
Beyond the Shrouded Horizon (Inside Out Music, 2011)
Of all the former Genesis musicians, guitarist Steve Hackett is the one that has foremost kept the progressive rock torch alive. Throughout his solo career, Hackett has explored various musical genres, including progressive rock, classical, blues-rock, pop and folk. Beyond the Shrouded Horizon brings together all of these genres influences, although the pop influences are thankfully minimal.
Steve Hackett is one of the finest guitarists in the progressive rock arena. As such, Beyond the Shrouded Horizon treats the listener to an excellent collection of solos and beautiful melodies performed on a variety of electric and acoustic guitars, using different techniques, such as his magnificent slide guitar style.
The album opens with a couple of rockers with heavy drums. Thankfully it's not heavy metal. On 'Loch Lomond' Hackett easily moves between rock and Scottish folk music, from electric to acoustic guitars. 'The Phoenix Flown' is an electric guitar instrumental, where Hackett shows at times that he can shred as well as any of today's top electric guitar players.
On track 3, 'Wanderlust,' Hackets performs one of his short but exquisite acoustic pieces. It segues into 'Til' These Eyes' a song featuring acoustic guitars and delicate symphonic arrangements.
'Prairie Angel' begins as an anthemic instrumental (bass) with electric guitar that begins in progressive rock style and soon morphs into a heavy blues-rock piece.
Next comes 'A Place Called Freedom', where Hackett incorporates his beautiful Genesis-era acoustic guitar arpeggios, fabulous electric guitar solos and symphonic arrangements.
'Between the Sunset and the Coconut Palms' has a nostalgic feel. It is followed by 'Waking to Life,' a pop piece with some world music elements.
'Two Faces of Cairo' is one of the best cuts on the album. It's a captivating and energetic progressive rock piece with superb Arabic inspired electric guitar.
Next comes a ballad titled 'Looking for Fantasy.' It's followed by another signature acoustic guitar gem titled 'Summer's Breath.'
Blues-rock returns with the rocker 'Catwalk.' The album ends with the longest piece on the album, titled 'Turn This Island Earth.' One would think that this is the usual epic many progressive rock artists feature in their albums. However, it's a collage of various styles and not a grand finale. The suite has variety of moods that includes ominous symphonic parts, pop sections, and hard rockin' guitar.
Beyond the Shrouded Horizon is a cinematic collection of new pieces, spanning various genres, by one of the UK's finest rock guitarists, who showcases his talent and skill as a versatile guitarist.