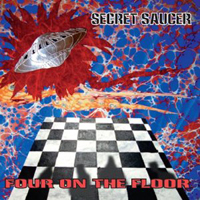 Secret Saucer
Four on the Floor (Secret Saucer SFS004, 2011)
For its most recent album, space rock band Secret Saucer decided to make more cohesive pieces. Their outstanding blend of synths and guitar is still there, but the compositions are a little shorter and the band throws in a few surprises and interesting twists.
After a very brief introduction, the album opens with 'Time Spent Out Of Mind,' a fast paced guitar-led piece with a drum beat that borders on rockabilly. I envision this track used in a Robert Rodriguez film.
The rhythm slows down considerably in 'Lunar Pull', a trance-like mesmerizing song with robotized vocals and superb solo synthesizer and guitar interplay.
On 'Daedal' the band goes into jam rock fashion, incorporating Middle Eastern influenced guitars dueling with the synthesizers.
Next comes a delicate song with regular vocals, a rarity in Secret Saucer, which is known for its instrumental pieces. 'Awaken' features a mix of acoustic guitars and delightful synthesizers.
As the title indicates, 'The Dark Rift' has a darker ambiance, with dense atmospheres inspired by early Tangerine Dream.
'Celestial Spigot' could be best described as space rock meets Canterbury. Guest saxophonist Greg Klucher jams with the band, adding a tasty jazz element that brings the overall sound close to the great Canterbury-style progressive rock.
The dreamlike 'Four On The Floor' features wailing guitars and intricate mellotron and synths. The keyboard work at times is reminiscent of the great French space rock band Pulsar.
'Aegean Bridge' has more of a rock feel, blending guitar riffs with synth solos and bubbly sounds.
The short piece 'Notch' takes the band into deep space territory, with drones and atmospheres. It's an appropriate prequel to the last cut on the album, Secret Saucer's rendition of the early Pink Floyd classic 'A Saucerful Of Secrets.' It's a fine tribute to the late Richard Wright, Pink Floyd's keyboard player.
The line-up on this album includes Ted Boburka on drums and synthesizers; Steve Hayes on synthesizers; Dave Hess on synthesizers and glissando guitar; Billy Spear on bass; Dan Schnell on guitar and synthesizers; Greg Kozlowski on guitar, synthesizers. They are joined by special guests Nick Riff on guitar and Greg Klucher on saxophone.
Four on the Floor is another winner by Secret Saucer, one of the finest purveyors of progressive space rock in the current musical scene.