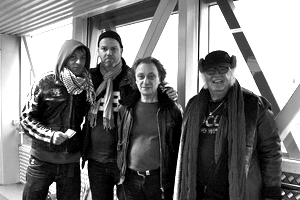 Back from its successful South American tour, legendary progressive rock band Focus has announced its spring 2012 Dutch and Belgian tour.
The current Focus line-up includes founder Thijs van Leer on keyboards, flute and vocals and Pierre van der Linden on drums together with new members Menno Gootjes on guitar and Bobby Jacobs on bass.
Focus has a new DVD titled "More or Less…" Also available on DVD: 'Live Beyond Reality,' a live show including 'Beyond Reality' album in its entirety.
The group's latest recording is Focus 9 / New Skin.
Tour dates
April 07
Weert
Bosuil NL
April 11
Verviers
Spirit of 66 BE
April 15
Apeldoorn
Gigant NL
April 20
Amersfoort
Podium de Kelder NL
April 21
Antwerpen
De Roma BE
April 22
Venlo
Perron 55 NL
May 05
Zutphen
Bevrijdingsfestival NL