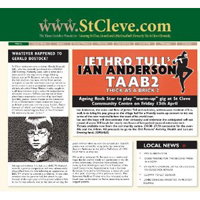 Jethro Tull's Ian Anderson

TAAB2 (Chrysalis/EMI, 2012)
The eagerly anticipated album by Ian Anderson, founder and leader of Jethro Tull is now available. TAAB2 or Thick As A Brick 2 revisits the life of Gerald Bostock. Those familiar with the original Thick As A Brick album will remember the attention-grabbing and humorous stories featured in the fictitious newspaper that served as album sleeve. Gerald Bostock was the spectacled child featured in Thick As A Brick. If you ever wondered what happened to him, Ian Anderson may have some answers.
"The theme of this anniversary "part two" album is to examine the possible different paths that the precocious young schoolboy, Gerald Bostock, might have taken later in life and to create alter-ego characters whose song-section identities illustrate the hugely varied potential twists and turns of fate and opportunity," says Anderson. "Not just for Gerald but to echo how our own lives develop, change direction and ultimately conclude through chance encounters and interventions, however tiny and insignificant they might seem at the time."
Thick As A Brick 2 follows the Gerald Bostock saga with music that will please Jethro Tull fans. Ian Anderson's unique voice has aged well, like a good wine. He treats the listener to a series of songs, narrations and flute performances that demonstrate that he is still a major musical force. Anderson's flute performs solo and intertwined with Florian Opahle's guitar. The primary keyboard used throughout the album is the electric organ, which adds yet another familiar element to Anderson's music.
The band on Thick As A Brick 2 includes veteran musicians as well as a new generation of players. Performers featured in the album include Ian Anderson on vocals, flute and guitar; John O'Hara on organ, piano and keyboards; David Goodler on bass; Florian Opahle on guitar, Scott Hammond on drums and percussion, with additional vocals by Ryan O'Donnell and Pete Judge on horns.
"Actually, I played much more acoustic guitar than usual on this record having written most of the music on that instrument," says Anderson. "But there are still sections conceived on the flute and sometimes – quite often, in fact – the lyric writing preceded all the melodies and harmonic structures. Starting with lyrics and then thinking of the music is not normally the way I work but it was here. A title, a few words or a verse or two and then the acoustic guitar was immediately to hand to conjure up a full song section out of the growing lyrics. Having a plan was important. Stories to tell made it all easier. The imagination-filled process of thinking how things might have turned out for the young and older Gerald kept me fascinated. Maybe you will be too. And maybe not."
The special edition 2-CD set includes the audio CD and a DVD with 5.1 stereo mixes, 24-bit stereo mix, video of the making of the album, interviews with the musicians and Ian Anderson reading the lyrics in different settings.
Thick As A Brick 2 is another memorable album by Ian Anderson with his carefully crafted and recognizable mix of rock, classical, jazz and folk music elements.