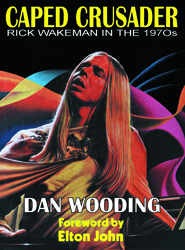 'Caped Crusader, Rick Wakeman In The 1970s' (Gonzo Media Group) is the recently re-released biographical book by veteran writer, broadcaster and journalist, Dan Wooding. The biography includes a foreword by Elton John
Rick Wakeman is one of the world's greatest rock keyboardists. 'Caped Crusader, Rick Wakeman In The 1970s' is sumptuously illustrated with dozens of photos from Wakeman's extraordinary career which includes the time his career took off when he joined the folk group, Strawbs, in 1969, and played on three of their albums.
Wooding's book also features details about Wakeman's participation in British progressive rock group, Yes, as well as his many themed solo albums, including The Six Wives of Henry VIII (1973), Journey to the Centre of the Earth (1974) and The Myths and Legends of King Arthur and the Knights of the Round Table (1975).
Richard Christopher Wakeman was born May 18, 1949 and was trained at the Royal College of Music in London. Wakeman has produced over 100 solo albums that have sold more than 50 million copies.
Elton John, in his foreword for the book, said, "Rick's mastery of electronic instruments only adds to his abilities, and I think it is fair to say he was one of the reasons I stuck to the piano. I also admire his attitude to stage shows – always willing to take a gamble, but never sacrificing his musical ideals. Just as important, never losing his sense of humor and his sense of the ridiculous. Anyone who can put on an ice show at Wembley must be all right. I must add that Rick loves cars and is a fanatic when it comes to soccer. Therefore, he and I have an unbreakable bond.
"It has become fashionable to knock musicians who have been around a while, and who are still determined to persevere in what they believe in. It is very easy to be misunderstood along the way, but it is vital to ignore trends and get on with what you want to do. Rick will always do this because, quite simply, he's that much better than everyone else."
Dan Wooding, 71, founder of ASSIST and the ASSIST News Service, and the author of 45 books, was the first journalist to ever write a story about Rick Wakeman. It occurred more than 40 years ago while he was working on a local newspaper in Ealing, West London.
"I was looking for stories for the paper and had just called in on a shop called the Musical Bargain Centre in South Ealing Road, and it was then that I heard someone playing amazing keyboards at the back of the store," remembers Wooding. "I waited until he had finished and then talked with him. That person was Rick Wakeman and he told me that he was then a student at the Royal College of Music in London and was also doing sessions with different musicians. He told me had had just played piano on and arranged Morning Has Broken for Cat Stevens and also played mellotron on Space Oddity for David Bowie. Both went on to become number 1 hits both in the UK and the USA.
"Rick told me that he had never been interviewed before, so I wrote up the story for the paper and we became best friends. He invited me to his home in Northolt and I sat there spellbound as he played for me on his home piano. I had never heard anything like it.
"I shared with him a little about my background, explaining to him that I was born of missionary parents in Nigeria, and it was then that Rick told me that he was also a Christian and had been baptized at South Harrow Baptist Church and, at that time, was also a Sunday School teacher there.
"As his career blossomed, I went on to write his authorized biography, and this latest one, which contains some updates, has been reissued along with Elton John's foreword, and the three of us even had our picture taken together at Brentford F.C. for the back cover of the book."
Wooding, who now lives in southern California, added, "Rick and I have remained close friends for all these years and he has also performed several concerts for ASSIST in the United States.
"I am delighted that his incredible story, or at least the earlier part of it, can be told again for those in this new generation, who possibly don't know too much about the 'Grumpy Old Man' that they see on British TV, will be able to learn about his incredible talents as a keyboard player, composer and songwriter."
Why the title? Wooding says it comes from the fact that the blond figure of Wakeman would wrap his glittering shimmering cape around his giant frame and head on stage at arenas around the world to start another incredible performance on his battery of electronic keyboards.
To purchase a copy of "Caped Crusader" go to: