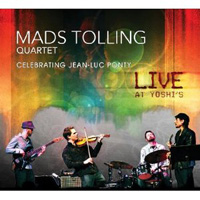 Mads Tolling Quartet
Celebrating Jean-Luc Ponty – Live at Yoshi's (Madsman Records MT-02, 2012)
The music performed and composed by electric violin master and innovator Jean-Luc Ponty receives a memorable treatment in Mads Tolling Quartet's new album, Celebrating Jean-Luc Ponty – Live at Yoshi's.
Although Jean-Luc Ponty is best known for his dazzling electric violin-fueled jazz-rock fusion, his career spans decades and various forms of jazz. The Mads Tolling Quartet travels through Ponty's career, performing some of the French violinist's most emblematic compositions. Celebrating Jean-Luc Ponty – Live at Yoshi's includes pieces composed by Ponty such as New Country, Enigmatic Ocean, Struggle of the Turtle to the Sea, Bowing Bowing and Last Memories of Her. The album also features well known works by jazz and rock luminaries that were performed by Ponty: John McLaughlin's Lila's Dance, Stanley Clarke's Song to John and Frank Zappa's King
Kong. Mads Tolling closes the album with an original composition in two parts inspired by Ponty's work titled Pontyfication.
The music on Celebrating Jean-Luc Ponty – Live at Yoshi's is a mesmerizing mix of jazz-rock fusion, jazz swing and even bebop. Although the quartet uses an electric violin and electric guitar, there is less of a rock and electronics focus as jazz plays a larger role.
The Mads Tolling Quartet line-up includes four skilled instrumentalists: Danish virtuoso Mads Tolling on violin, Mike Abraham on guitar, George Ban-Weiss on bass, and Eric Garland on drums.
"It was my goal with this album to have a wide range of material that was closely related to Ponty – I didn't want to recreate his compositions, but instead offer my take on them and also show the great range of projects he has done through the years, including Frank Zappa's band, Mahavishnu Orchestra, Rite of Strings and even the swing and bebop stuff he did early on in his career," explains Tolling.
Celebrating Jean-Luc Ponty – Live at Yoshi's is a superb tribute to the music of one of the great violin innovators of the late 20th century performed by an outstanding electric jazz quartet. Ponty's music is in good hands.