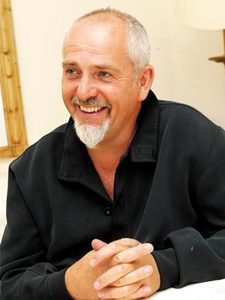 British rock star Peter Gabriel announced that he will return to American and Canadian stages to celebrate the 25th anniversary of his groundbreaking album So.
The tour, entitled back to front, will feature the entire iconic album So. The tour will include Gabriel and many of the members of the original band he toured with 25 years ago. In addition to So's songs from start to finish, Gabriel will also perform some of his other biggest hits.
To coincide with the tour, So will be re-issued on September 17th in Europe and September 18th in the United States as a CD, special edition 3-CD set, and Super Deluxe Box Set.
Peter Gabriel was the vocalist of the legendary band Genesis during its progressive rock era. So is the best-selling solo album and debuted at the top of the music charts around the world eventually going 5-times platinum and becoming one of the most groundbreaking albums of the 1980's.
So includes hits such as "Sledgehammer," "Big Time," "Red Rain," the haunting duet "Don't Give Up" with Kate Bush, and one of the most iconic songs of all time "In Your Eyes."
The songs were also part of the emerging video revolution and the "Sledgehammer" became one of the most awarded videos of its time. To this date, "Sledgehammer" remains the most played video of all time on MTV.
Tour dates
16 September – Colisee Pepsi Quebec City, QC
18 September – Bell Centre Montreal, QC
19 September – Air Canada Centre Toronto, ON
21 September – vWells Fargo Center Philadelphia, PA
23 September – Nikon at Jones Beach Wantaugh, NY
24 September – TD Garden Boston, MA
26 September – Palace of Auburn Hills Detroit, MI
27 September – United Center Chicago, IL
30 September – Red Rocks Denver, CO
2 October – HP Pavilion San Jose, CA
5 October – Planet Hollywood Showroom Las Vegas, NV
6 October – Hollywood Bowl Los Angeles, CA
9 October – Santa Barbara County Bowl Santa Barbara, CA
(Additional dates could be announced and itinerary subject to change)