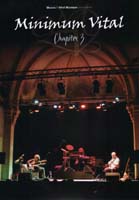 French progressive rock band Minimum Vital has a new DVD. Titled Chapître 3 (Musea Parallèle FGBG 9032), the video is the first DVD ever released by the band.
Minimum Vital was captured live March 4th, & 5th, 2011, at Bègles' Mussonville Chapel. The brothers Payssan are shown busy playing guitars, keyboards and percussions on the six titles featured here. Thierry & Jean-Luc Payssan are accompanied by bass player Eric Rebeyrol. Three other compositions, recorded in February 2012, are featured as bonus.
Minimum Vital is amongst the most original bands from the 1980s French progressive rock scene. Thierry & Jean-Luc Payssan mix virtuosic progressive rock with jazz-rock fusion, Medieval music and the southern European traditional music.
The album "Envol Triangles/Les Saisons Marines" includes the first audio-cassette (1985) and the first vinyl (1987). Next came "Sarabandes" (1990) on the Musea label.
"La Source" (1993) featured female singer Sonia Nedelec and her counterpart Jean-Baptiste Ferracci. They used a language of their own, mixing Latin, Occitan (a dialect from the South of France) and Portuguese.
The live video "Les Mondes De…" includes the 51 minute performance at Los Angeles' ProgFest 1994. It comprises pieces from the three first albums, as well as unreleased tracks.
"Esprit D'Amor" came out in 1997. "Au Cercle De Pierre…" (1997) shows the live experience of the band. The CD includes twelve titles, including an unreleased studio track and a multimedia file with biography, music and video.
After a seven-year silence Minimum Vital released a new studio opus tiled "Atlas" (2004).
Buy Chapître 3