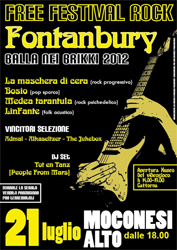 One of Italy's finest progressive rock bands, La Maschera Di Cera, will be performing today, July 21st 2012 at Fontanbury Free Festival Rock. The event takes place at Moconesi Alto, in Valfontanabuona, Liguria (Italy).
Other artists scheduled to perform are pop band Bosio, psychedelic rock band Medea tarantula and acoustic folk act LinFante.
La Maschera Di Cera was formed in 2001 when Finisterre's bass player Fabio Zuffanti decided to form a band that would recreate the magnificent tradition of the Italian progressive rock sound of the 1970s.
Zuffanti was joined by Finisterre's keyboardist Agostino Macor, Finisterre's drummer Marco Cavani, vocalist Alessandro Corvaglia and flutist Andrea Monetti (Alhambra, Ku, Embryo). Zuffanti and Macor developed the music of La Maschera Di Cera suite and three other pieces that became the band's first album.
"La Maschera Di Cera" came out in May 2002 on Mellow Records label. The second recording, Il Grande Labirinto was released in 2003, also on Mellow Records.
Maurizio Di Tollo replaced Marco Cavani on drums. In September 2003, the band signed with the Immaginifica label directed by Premiata Forneria Marconi's drummer Franz Di Cioccio.
The first official live CD "Maschera Di Cera In Concerto" came out in 2004, recorded at the Spirit of 66 in Verviers (Belgium).
Franz Di Cioccio produced La Maschera Di Cera's third studio album in 2005. The title was Luxade and came out in 2006, on Immaginifica Records.
Petali Di Fuoco came out in 2010.
The band's lineup includes: Alessandro Corvaglia on vocals; Agostino Macor on keyboards; Andrea Monetti on flute; Fabio Zuffanti on bass, bass pedals; Maurizio Di Tollo on drums.
More information about Fontanbury Free Festival Rock at http://djtotentanz.blogspot.co.uk/2012/06/210712-fontanbury-free-festival-rock.html