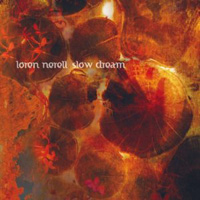 Loren Nerell
Slow Dream (Projekt, 2012)
Slow Dream is the seventh solo album by Los Angeles-based synthesist Loren Nerell. Slow Dream takes the listener into a deep ambient electronic music expedition. As the title suggests, the continuously flowing atmospheres lead you to different places or worlds. As a fan of science fiction, I envisioned a spaceship cruising as an interstellar beacon guides it through space. Or you could imagine deep sea exploration.
For fans of deep space music, Nerell's music has it all: the rich drones, ethereal soundscapes and layers of electronic atmospheres. The four lengthy tracks (the first cut clocks 28:40) are based on extremely processed location recordings made during Nerell's trips to mythical Bali.
Loren Nerell is a composer on Balinese gamelan and ambient electronic music. He has six albums prior to Slow Dream: Point Of Arrival (LAN, 1986), Lilin Dewa (Side Effects, 1996), Indonesian Soundscapes (Soleilmoon Recordings, 1999), Taksu (Soleilmoon Recordings, 2003), Terraform, with Steve Roach (Soleilmoon Recordings, 2006), Intangible, with A Produce (Hypnos, 2011).
In addition to his solo releases, Nerell has over 30 years of ethno music studies and performing and recording with gamelan ensembles. Nerell has collaborated with pioneers in the electronic, ambient and new music fields including Steve Roach, A Produce, Kronos Quartet and Paul Haslinger. He has also written music for film, theater, dance, and interactive multi-media.
Slow Dream is a beautiful and mesmerizing album of deep ambient electronic music.
Buy Slow Dream