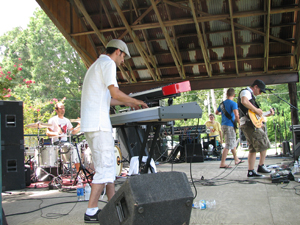 On September 1st, in the afternoon, I headed to Storybook Farm for the 2012 edition of Progday, the longest running progressive rock festival in the United States. This year Progday has a focus on the jazzier and avant-garde side of progressive rock.
Judging by the license plates I saw, there were quite a few festivalgoers from Maryland, Massachusetts and other states in the mid-Atlantic and Northeast.
Unfortunately, I missed the first act, Ephemeral Sun, from the United States, who performed in the morning.
I was looking forward to listening to Canadian band Karcius, from Montreal, and they didn't disappointment me. Karcius played a mix of instrumental and vocal tracks.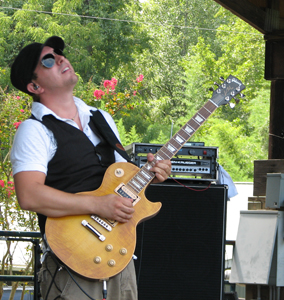 The group features four great instrumentalists, Simon L'Esperance on guitars, Thomas Brodeur on drums, Mingan Sauriol on Keyboards and Sylvain Auclair on bass and vocals. Simon L'Esperance treated the audience to several outstanding guitar solos using various techniques. The least interesting moments to me were the occasional outbursts of tired heavy rock. Meanwhile, Sylvain Auclair engaged the audience in English and demonstrated his talent as a vocalist.
Karcius was formed in 2001 by Simon L'Esperance, Thomas Brodeur and Mingan Sauriol. Sylvain Auclair joined the band in 2009. Although Karcius' foundation is progressive rock and jazz fusion, they incorporate pop, world music, classical and electronic music to their sound. Their discography includes Sphere (Unicorn Digital, 2004), Kaleidoscope (Unicorn Digital, 2006), Episodes (Unicorn Digital, 2008) and The First Day (Unicorn Digital, 2012).
While waiting for the next act, I had a chance to check out some of the vendors. Peter Renfro, the original founder of Progday has released some excellent compilations of live performances made at Progday throughout the years, under his label called Proglodite Records. The most appealing is a mammoth 7-disc boxed set titled Progday Encore? These collections are an excellent opportunity to sample live performances by some of the finest progressive rock bands in the past two decades. You can still get the following collections: Progday Encore?, ProgDay '98, ProgDay 1995, ProgDay 2001.
The next performance was by Accordo dei Contrari from Italy. This instrumental quartet is currently one of the finest exponents of Canterbury-style progressive rock. Accordo dei Contrari features four outstanding musicians. Keyboardist Giovanni Parmeggiani fascinated the audience with his dazzling solos. The rest of the band includes Cristian Franchi on drums, Daniele Piccinini on bass and Marco Marzo on guitar.
Accordo dei Contrari was founded in 2001 in Bologna, Italy. The idea was to develop original instrumental music. The group operated as a trio with Cristian Franchi on drums, Giovanni Parmeggiani on keyboards and Alessandro Pedrini on guitar. In 2003 Daniele Piccinini joined the band on bass, but soon Alessandro Pedrini left.
The band became a quintet in January 2004 with Cristian Franchi on drums, Giovanni Parmeggiani on keyboards, Daniele Piccinini on bass, Marco Marzo on guitar and Vladimiro Cantaluppi on violin.
The violin experiment only lasted two years. In 2006 Vladimiro Cantaluppi left Accordo dei Contrari. The group recorded Kinesis (AltrOck 2007) as a quartet. Kinesis won the Progaward for the best Italian album of progressive rock in 2007.
Accordo dei Contrari collaborated with Richard Sinclair (former Caravan, Hatfield and the North, Camel). They recorded their second album titled Kublai in July 2010.
I was not able to stay for the last band of the day, legendary Boston avant-garde progressive rock band Birdsongs of the Mesozoic.
Later that night, Memphis band Mind was scheduled to perform at the Local 506 rock club in Chapel Hill. I was not able to go the concert, but I checked out their debut CD Structure (2012). It's a wonderful recording of progressive rock with symphonic, psychedelic, blues and fusion elements. We'll be reviewing the album with more detail in the future.