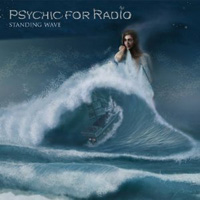 Psychic for Radio, a project developed by ProgRock Records founder Shawn Gordon has a new album titled Standing Wave. The lineup changes from album to album. The current lineup features Gorgon and Henning Pauly plus a large group of friends and guests.
The vocalists include are: Rick Livingstone, Adrian O'Shaughnessy, Todd Plant (Cryptic Vision) and Maya Haddi Zebley. Special guests include Martin Orford (ex-IQ), Mark Zonder (Fates Warning), Mike Alvarez, Pater Matuchniak (Evolve IV, Gekko Projekt), Carl Westholm (Carptree, Jupiter Society), Randy George (Ajalon, Neal Morse band), Sen Entriken (Prymary), Bill Berends (Mastermind) and Marek Arnold (Seven Steps to the Green Door).
"You'll find influences from OSI, Genesis, Howard Jones, Spyro Gyra, Alan Parsons Project and the unidentifiable," says Shawn Gordon.
Standing Wave will be released on November 6, 2012.