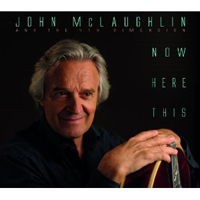 Legendary jazz and fusion guitarist John McLaughlin has a new album titled Now Here This with his current band, 4th Dimension. The group's current line-up includes John McLaughlin on guitar; Etienne Mbappe on bass; Gary Husband on keyboards); and Indian sensation Ranjit Barot on drums. The album is set for release on Abstract Logix on October 18, 2012.
This set of eight new McLaughlin originals is connected by the guitarist's decades-long fascination with Indian music.
It's been two years since John McLaughlin released the much-admired To the One (Abstract Logix, 2010) – his first studio recording with The 4th Dimension, the veteran guitar innovator's second longest-standing group since the east-meets-west fusion of Shakti.
Buy Now Here This