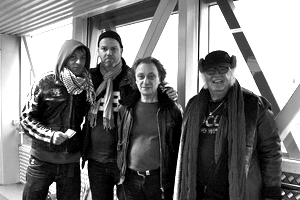 Pioneering Dutch progressive band Focus has a new album titled X. The band's guitarist, Menno Gootjes, discusses the new recording with progressive rock Central.
Who composed the music on Focus X?
X is a true Focus album in the sense that it's got long, epic symphonic pieces as well as shorter, upbeat rock-tunes. The material sounds fresh and inspired, partly due to the fact that we've been touring a lot with this line-up during the whole production process.
The new line-up fits very well because our personalities are equally strong enough to inspire each other, or challenge each other. It keeps the fire lit, and X reflects that. Plus we're simply having a great time making music with each other! Soundwise it goes back to a classic set up, in Focus terms. You know, the Les Paul with the Hammond, Drums and Bass and some acoustic guitars.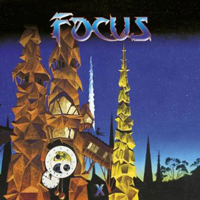 The first difference with the former 2 albums is off course the guitar players, different ones on every one of them. The production has improved. On X, for the first time in years, Focus sounds like a real band again where all the players blend well sound- AND personality-wise. A lot of it is improvised or recorded on the spot. Plus there's writing contributions from everybody as well.
Thijs is still the main composer, he's always got a lot of new music lying around. Bobby Jacobs wrote a great piece called Hoeratio, one of my personal favorites. There's a tune called Message Magique from a Dutch composer called Ben van der Linden. It's got a real Focus feel so we wanted it on the album. And I wrote the opening rock-tune called Father Bachus.
Who played in the X album?
We did! There's also a vocal contribution from the great Brazilian songwriter Ivan Lins, on Birds Come Fly Over, and on the Japanese bonus track Santa Theresa.
X features spoken word in some pieces like Father Bachus and All Hens On Deck. Why did you go that route?
You probably should ask Bobby Jacobs the bass player since he produced it. But personally I think it's just Thijs' signature, as if to say 'Don't worry, I'm still crazy after all those years"!! It's nothing serious really, just a bit of fun opposing the more intellectual pieces on the album. Everybody needs a laugh now and then and so does X.
Is Latin the language used in 'Hoeratio '? How did that come about?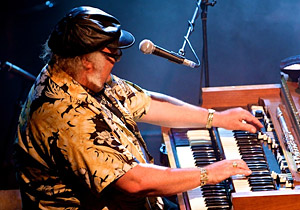 The first half of the song sounded like it needed something more, so Bobby thought about Thijs speaking out some words, like a poem. Thijs was reading Horatius [Horace] at the time, so it became an excerpt from his Ars Poetica, which is in Latin. At least 3 members had Latin in school so we still find inspiration in those old writings. Horatius' excerpt tells about a flute player who's audience has become spoiled, bored and disinterested, drunk and dying for a quick fix instead of having the patience to really experience high cultural soothing. So much in tune with the times now it seems…the decline of western civilization.
How is X distributed internationally?
It's distributed worldwide by Plastic Head (PHD), and through our own website.
The Japanese edition of the album features two bonus tracks, Santa Teresa and Hocus Pocus (Live). Will you be releasing other exclusive editions?
The other exclusive editions are the digi-pack and the vinyl versions, next to the normal jewel case version, but they don't come with bonus tracks. That's strictly for the Japanese one.
Focus has released 10 albums. Do you have any live or unreleased material in your archives and are there any plans to release this material?
Yes there's a lot of really cool stuff and yes there will be releases!
Tell us a little about the current Focus band members.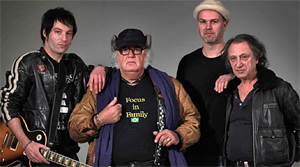 Well there's Thijs and Pierre off course. Without them there wouldn't be a Focus-sound, there wouldn't be Focus, period. They're totally unique and gifted people. They both have their roots in classical and jazz music, but they can rock hard as well.
Bobby Jacobs, the bass player, is Thijs's stepson so he grew up with all this fantastic music surrounding him. He developed a very unique approach to bass playing, unorthodox and special. He's got his own language on the bass and he's the only bass player I'll recognize by one note.
Myself, I've been playing with Thijs since I was 21. I'm classically trained on the piano and studied jazz at the Conservatory, but also toured with metal and rock bands. I was in Focus before, too. In 1997. It was a different line up, with Bert Ruiter on bass and Hans Cleuver on drums. After that I did a lot session work and had some bands of my own, and teaching guitar as well. It feels like I've found a real musical home in Focus now.
X features artwork by the iconic Roger Dean. How did you connect with him?
Our management, QEDG, is led by Martin Darvill in the UK, and he used to be the tour manager of Yes.
Martin and Roger are friends so the connection was already there. QEDG also does bands like Asia, whose covers are done by Roger as well. It's that scene you know, very cool!
It looks like you are touring a lot lately. Where will you be playing in the next months?
The first thing will be the UK, from the 25th of January.
What other projects are you working on now?
There's some Focus-related projects that are up for release this year, can't tell yet what that'll be exactly though! But it'll be very cool. I'm working on my own album as well right now, which I'd like to release within a year.