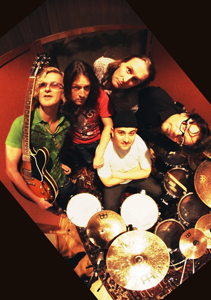 Renowned Swedish progressive rock band The Flower Kings and the Neal Morse Band will be touring Europe in February and March of 2013.
The Flower Kings has a new album titled "Banks Of Eden" while Neal Morse recently released "Momentum" and has an upcoming boxed set titled Live Momentum recorded live October 11th, 2012 at The High Line Ballroom in New York City.
The Flower Kings, led by guitarist Roine Stolt, played an essential role in the progressive rock scene in the 1990s and is still going strong, with its mix of classic symphonic progressive rock and occasional incursions into hard rock. Neal Morse was a member of progressive rock band Spock's Beard. His style is a mix of progressive rock, hard rock and evangelical Christian pop.
"We hope to make every evening special – with jamming and interacting – a modern "The Last Waltz" that can happen with 11 musicians, no egos and 3,5 hours to kill," says Roine Stolt. "There were the times of Fillmore East & Fillmore West in the USA in late 60's, it had all these insanely great bills every time, it's rock history and it's been in our system since we were teenagers.
With The Flower Kings we have fans seeing 4 or 5 shows of a tour and we want to surprise them too. We love our fans dearly and we even know many of them, not only by face, but by name. Those smiling faces are the true reward and it's like seeing old friends. I know so many fans in Peru, Argentina, Indonesia, Greece, Israel, Brazil, Mexico, Japan, Canada, Finland, Norway etc. want to see a show like this, but for geographic, political or health reasons don't have the chance or funds to get to a show like this.
But we want to step into their living rooms and bring this joy to everyone, every age so we are planning to record the show, for a future release. Just having 11 musicians on tour together will be great – the sheer musicality onboard that bus will most likely make it implode. We are all looking forward to this grand adventure in February 2013 and to play together and bring all this talent together for a night to remember."
22 February SE Stockholm, Bryggarsalen
23February SE Malmoe, KB
25 February GER Hamburg, Markthalle
26 February GER Köln, Live Music Hall
27 February CH Pratteln, Z7
28 February ITA Milan, Live Club
1 March ES Barcelona, Razzmatazz 2
2 March ES Madrid, Sala But
5 March GER Russelheim, Das Rind
6 March NL Zoetermeer, Boerderij
7 March UK London, The Electric Ballroom