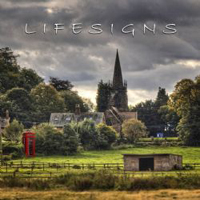 Lifesigns
Lifesigns (Esoteric Antenna, 2013)
There was a lot of expectation about this debut album by Lifesigns, a group described as a progressive rock band by the label. The album opens with a strong piece with fabulous keyboard work and impressive creative bass lines and drumming. The beautifully crafted lead vocals and harmonies leave a memorable impression. The keyboards stand out with rich layers of majestic and futuristic keyboard atmospheres, gorgeous synthesizer and piano.
After such a good impression, track 2 takes the band into a totally different direction and it's not progressive rock. 'Telephone' is a pop song with a good synth solo that may appeal to fans of Album Oriented Rock (AOR) bands like Asia or Foreigner.
'Fridge Full of Stars' continues in the AOR direction until you reach Thijs Van Leer's flute. The music at that point gets much better with the flute solo, bass lines and keyboard atmospheres.
Track 4, 'At the End of the World' continues the AOR direction. Thankfully, progressive rock returns in full force on the final piece, 'Carousel', with a spectacular electric guitar solo by Steve Hackett. The band leaves the radio friendly AOR vocals and ventures into more creative music with engaging vocals, keyboard and bass interactions and more of the tasty flute by Thijs Van Leer. Keyboardist John Young finally displays his full talent on a wide range of keyboards, including piano, synthesizers, organ and exquisite atmospheres.
The Lifesigns lineup includes John Young on keyboards, lead vocals; Nick Beggs on bass, stick and backing vocals; and Martin 'Frosty' Beedle on drums. The three band members are veteran musicians who have performed with various rock, pop, AOR and progressive rock bands.
Guests on the album include Steve Hackett, Thijs Van Leer (Focus), Jakko Jakszyk (King Crimson) & Robin Boult.
Lifesigns is a very promising debut album by a group of talented and skillful British musicians with tremendous potential in the progressive rock field in they decide to pursue their more creative side.
Buy Lifesigns in North America
Buy Lifesigns in Europe