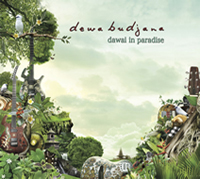 Dewa Budjana
Dawai in Paradise (MoonJune Records, 2013)
Dawai in Paradise is the fifth album by Indonesian guitar sensation Dewa Budjana, who hails from the island of Bali. Budjana is a respected guitarist and has been involved in various projects ranging from jazz fusion to rock and pop. On this solo album, he explores the worlds of jazz fusion and Indonesian music roots.
Dewa uses an impressive array of guitars, including acoustic, electric and synth guitar which he uses to emulate the sitar and other marvelous sounds. At times, his music is delightfully melodic. Other times he ventures into dazzling improvisation. Stylistically, you can hear traces of Pat Metheny and John McLaughlin, but the Indonesian flavor makes Dawai in Paradise unique.
Dawai in Paradise features Dewa Budjana along with a cast of skilled international jazz musicians, including Peter Erskine (Weather Report; Steps Ahead); multi-instrumentalist Howard Levy (Bela Fleck & The Flectones); Indonesian jazz keyboardist and producer, Indra Lesmana; notable Indonesian pianist Ade Irawan; and the late legendary jazz bassist, Dave Carpenter.
Dawai in Paradise presents an outstanding mix of progressive jazz and traditional sounds from Indonesia and clearly demonstrates that guitarist Dewa Budjana is a significant composer and graceful improviser.