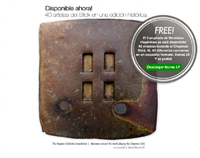 Stick maestro Guillermo Cides has put together a Stick players compilation titled The Hispanic Stickistas Compilation that features many of his colleagues and friends. It is released in a very special digital format: iTunes LP, which works similar to an interactive DVD with a menu, images, text and videos. This exclusive album is free to download with an option to donate to Amnesty International and Caritas International. It will be available only at stickistas.com
This is the second artist in Argentina to release an iTunes LP album. Charly Garcia did as well last December, but this time with a difference: it is free and has 40 tracks.
Guillermo Cides offered the very first Stick concert ever in Argentina in 1992. It was for only 15 people and it was the beginning of hundreds of concerts this Argentine musician would give around the world. Seeker of new musical shapes, he formed duos, trios and Stick ensembles as well as unusual bands where the Stick is the protagonist. He also founded the first Stick Center in Argentina and Spain making popular the instrument in those countries.
Eventually, Cides got to open for Roger Hodgson (Supertramp) where 50.000 people met his music for the first time. Cides has also played in concerts by Emerson, Lake & Palmer, Fish (Marillion), John Wetton (Asia), Rick Wakeman (Yes), Ian Anderson (Jethro Tull), Trey Gunn (King Crimson), California Guitar Trío, Emmett Chapman (inventor of the Stick), and Caravan. He has released several albums, the last one with the American singer Linda Cushma & Tim Alexander –formerly from Primus- and guests such as Tony Levin – who presented his new show "Stickman" in recent years.