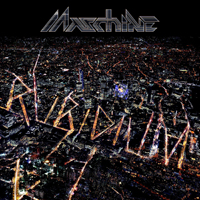 Maschine
Rubidium (InsideOut, 2013)
A few months ago there was a big buzz about Maschine, which was hailed as one of the great new sensations in British progressive rock. Now that their album Rubidium is out, the material featured reveals a mix of technically proficient prog rock and an abundance of regressive heavy metal. While the record label lists this band's genre as progressive rock, iTunes categorizes it as a metal band. The iTunes description is more accurate.
Maschine was formed in 2008 by Luke Machin at the Brighton Institute of Modern Music. Band members include guitar hero Luke Machin on guitar and vocals; Elliot Fuller on guitar; Dan Mash on bass; James Stewart on drums; and Georgia Lewis on keyboards and vocals.
The first two cuts on Rubidium, 'The Fallen' and 'Rubidium' are loaded with standard issue heavy metal riffs. Track 3 'Cubixstro' is considerably better, with a great mix of fusion and symphonic progressive rock although there are still some hard rocking riffs muddling things.
On 'Invincible' the band takes off its heavy metal jacket and presents an engaging jazz-infused piece with creative vocals, flute, beautiful piano and guitar interaction, intricate bass solos and a superb epic guitar conclusion.
You'll find plenty of brutal metal riffs on 'Venga,' 'Eyes Pt.1,' and 'Eyes Pt.2' and that makes them totally unattractive under a progressive rock perspective. There are a few moments of interest here and there but they are constantly drowned by metal riffs. This is clearly a case where the album could have benefited from two mixes: a progressive rock mix and a metal mix.
It's interesting that two of the best cuts on the album are the bonus tracks. 'Reach Out' contains outstanding guitar work and beautiful slow tempo passages. This is what the whole album could have sounded like without the metal. The last track, 'Chains' delivers a blend of tasteful jazz grooves with rock, featuring impressive guitar work.
"I am extremely happy with the way this album has come together; I wouldn't have changed a thing," says band leader Luke Machin. "We cannot wait to bring this album to the stage and start performing this material at live shows in the near future, it's gonna be killer! An album is a documentary of one's life at the present time and finally I can now share this experience with you all on record."
Rubidium is available as a limited edition digipak CD with two bonus tracks, and digital download.
Buy Rubidium in North America
Buy Rubidium in Europe