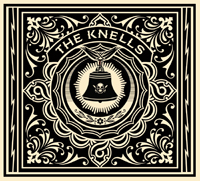 The Knells
The Knells (New Amsterdam Records, 2013)
Although innovative and groundbreaking is a term that is overused and most of the time inaccurate, in the case of progressive rock band The Knells the groundbreaking description is totally precise. The Knells prove that they are true to the progressive rock spirit by exploring new realms, creating State of the art music.
Any time you read about progressive rock there is the tendency to compare or seek influences. Many groups are inspired by the classic masters: Genesis, Yes, King Crimson. In the case if the Knells, however, it's hard to refer to the great classic bands from the 1970s. The Knells play a spectacular combination of rock, chamber music, Renaissance-style vocal polyphony, jazz and post rock. In that regard the Knells have developed a new style of their own.
Guitarist Andrew McKenna Lee is the composer and lyricist for all the pieces on The Knells. Even though he demonstrates that he can play captivating solos, his guitar style is totally eclectic, playing creative solos as well as spellbinding slow tempo guitar lines. In addition to the guitar work, the Mivos chamber ensemble adds a splendid tapestry of textures. But it's the additional of the exquisite polyphony by the three vocalists that really gives the splendid final touch to the group's sound. The exceptionally good singers take their mesmerizing voices from single melodic lines to intricate contrapuntal compositions.
The lineup on the album includes the Knells band members Nina Berman on vocals; Amanda Gregory on vocals; Katya Powder on vocals; Andrew McKenna Lee on guitar; Paul Orbell on guitar; Michael McCurdy on drums and percussion; and Joseph Higgins on bass. String ensemble Mivos Quartet is the special on the album and usually at the band's live performances. The members of Mivos quartet are Olivia De Prato (violin) , Joshua Modney (violin), Victor Lowrie (viola), and Mariel Roberts (cello). Cellist Isabel Castellvi also guests on several pieces.
The recording titled The Knells is a concept album that looks at some of the "personal and eternal questions that define and confound the human search for meaning and significance," confronting particular ideas as "one's perception of the passage of time, the illusive nature of progress, the power of perspective in deriving meaning from one's own life, and the circular and ultimately transcendental — if somewhat violent — beauty of nature."
The album features artwork by renowned graphic artist and illustrator Shepard Fairey.
The Knells is truly one of the finest progressive rock releases of the year.
The Knells will be performing at Subculture in New York city on December 10, 2013. The venue is located at 45 Bleecker St., downstairs, New York, NY 10012.
Watch the solo piece Dying in Waves featured in the album
Buy The Knells