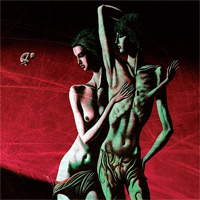 La Maschera Di Cera
Le porte del domani (AMS, 2013)
La Maschera Di Cera continues the grand tradition of classic Italian progressive rock with this fabulous album inspired by Le Orme's Felona and Sorona. Bassist Fabio Zuffanti and his colleagues have recreated perfectly the atmosphere of the great Italian progressive bands of the 1970s.
Le porte del domani is the continuation of Felona and Sorona. In addition to the vintage instrumentation with 21st century recording technology, Le porte del domani also brings back the captivating artwork by Lanfranco, the same artist who made the original "Felona and Sorona" painting. Lanfranco generously gave the band the permission to use his 1968 work "Gli Amanti del Sogno" (The Dream's Lovers).
The album is available in two versions. There is an Italian-language CD edition called Le porte del domain with red cover and an English-language CD with a blue cover called titled The Gates of Tomorrow with a slightly different mix. In addition, there is an LP version of Le porte del domani, and a special box containing a lithography on plexiglass of Lanfranco's cover painting.
The lineup on the album includes Zuffanti on bass and bells, fellow Finisterre musician Agostino Macor (vintage keyboards, piano, mandolin, bell), Maurizio Di Tollo (drums, percussion, mellotron), vocalist and guitarist Alessandro Corvaglia, flute player Andrea Monetti (Alhambra, Ku, Embryo). Guests include Martin Grise on flute and sax, and Laura Marsano on electric guitar.
Le porte del domani is an outstanding recording that will surely please fans of Italian progressive rock.