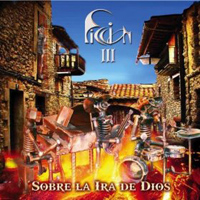 The results of Progressive Rock Central's Best Progressive Rock Album of 2013 Readers' Poll are now available. Venezuelan progressive rock band Ficción won by a large margin, followed by legendary progressive rock acts Steve Hackett and Oblivion Sun.
We draw several conclusions from this poll. First, Ficción and its supporters organized a tremendous grassroots campaign by getting Venezuelan music fans as well as family and friends to vote for the band. Although some progressive rock fans may disagree with the final result, this is a readers' poll, not a curated poll and a great marketing lesson on how to get more attention for a lesser known band.
Another conclusion is that dozens of progressive rock albums totally fly under the radar. While popular progressive rock bands like The Flower Kings, Spock's Beard and Transatlantic, as well as the ubiquitous prog metal, are heavily promoted; numerous progressive music albums get little or no promotion. We encourage progressive rock artists to send us their information, even if it's just a press release or an email note.
Final Results:
Ficción – Desde La Ira De Dios (Ficcion Records) 67.58% (20,227 votes)
Steve Hackett – Genesis Revisited: Live at Hammersmith (Inside Out) 5.01% (1,500 votes)
Oblivion Sun – The High Places (Prophase Music) 4.08% (1,221 votes)
Nemrud – Ritual (Musea Parallele) 2.88% (863 votes)
Steven Wilson – The Raven That Refused to Sing and other stories (Kscope Music) 2.5% (748 votes)
Spock's Beard – Brief Nocturnes and Dreamless Sleep (Inside Out) 1.55% (465 votes)
Herd of Instinct – Conjure (Firepool Records) 1.35% (403 votes)
Solstice – Prophecy (Esoteric Antenna) 0.97% (289 votes)
The Windmill – The Continuation (Windmill Records) 0.93% (279 votes)
Flicker – How Much Are You Willing To Forget? (Flicker) 0.91% (273 votes)