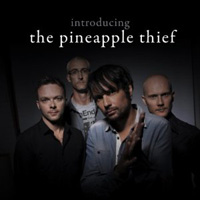 Introducing The Pineapple Thief is the title of a 2 CD mid-price compilation that features some of the best material from the progressive rock band's back catalog.
The band was formed by Bruce Soord and the early lineup featured Soord on guitars and vocals, Jon Sykes on bass, Wayne Higgins on guitars, Matt O'Leary on keyboards, and Keith Harrison on drums.
In the last few years The Pineapple Thief have emerged onto a higher platform, with bigger and better tours, recording at Peter Gabriel's Real World studios, artwork designed by the late Storm Thorgerson and new management .
The group's discography includes Abducting the Unicorn (1999), 137 (2001), Variations on a Dream (2003), 10 Stories Down (2005), Little Man (2006), What We Have Sown (2007), Tightly Unwound (2008), Someone Here Is Missing (2010). In 2012, the band released All The Wars, its latest studio album.