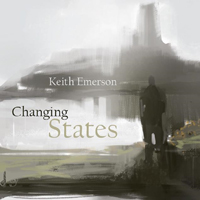 Esoteric Recordings has reissued the 1995 solo album "Changing States" by iconic progressive rock keyboardist Keith Emerson.
Changing States featured Keith Emerson on classic form on pieces such as 'Shelter from the Rain', 'Another Frontier' (originally recorded by Emerson, Lake & Palmer as 'Changing States'), 'Montagues and Capulets', and a superb version of the classic 'Abaddon's Bolero' recorded with the London Philharmonic Orchestra.
Unavailable for many years, "Changing States" has been newly remastered and includes an illustrated booklet with essay.
Buy Changing States in North America
Buy Changing States in Europe