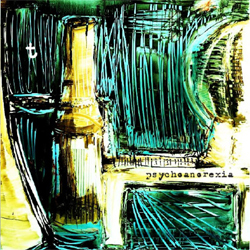 T
Psychoanorexia (Progressive Rock Promotion Records, 2012)
Psychoanorexia is a concept album by a German multi-instrumentalist and vocalist Thomas Thielen who is better known as T. He played all the instruments on the album and also provided the vocals. His vocal style is reminiscent of Steven Wilson, Anathema and also pop group The Cure.
The musical style contains elements of neo prog, post rock and space music, with musical passages that meander without reaching much climax. The best moments are the quiet parts, full of electronic ambience, and the occasional epic guitar solo.
T led German artrock band Scythe and has released three solo albums. He is a classically-trained pianist who learned how to play various other instruments and later became very interested in sound recording.
Psychoanorexia is a well-crafted album that will appeal to fans of melodic progressive rock.