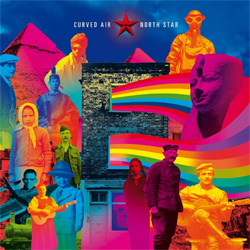 Curved Air
North Star (Curved Air Records, 2014)
Curved Air is one of the original pioneering progressive rock acts from the early 1970s. North Star is their first studio album since 2008, when the band reformed and released Reborn.
While many progressive rock acts lose their progressive spirit after a few years, the current incarnation of Curved Air demonstrate that they are still a solid and legitimate progressive rock band. The majority of the tracks on North Star have a progressive rock structure rather than a pop structure and this is greatly appreciated.
Even though vocalist Sonja Kristina is the best known member of the band, she gives plenty of space to the musicians so that they can showcase their talent. The album features exciting interplay between the violin, guitar and keyboards. Thankfully, Sonja Kristina still has that unmistakable voice that Curved Air fans love. Her voice has changed a bit since the 1970s, but she knows her limitations and delivers a significant performance.
Highlights include "Time Games" where the band sounds like a state of the art jazz-rock fusion band; the re-recording of the beautiful and dreamy "Puppets" that first appeared on Curved Air's second album; "Images and Signs" where the band takes you into first class symphonic progressive rock with outstanding violin and guitar solos; the dazzling instrumental "Spider" where all the instrumentalists provide an impressive mix of fusion and symphonic rock; the remarkable interplay of violin and vocals plus a fabulous synth solo in "Magnetism"; and the recreation of another classic from the 1970s titled "Young Mother" where we get more of Sonja Kristina's captivating vocals and climactic violin and guitar melodies.
The impressive lineup includes Sonja Kristina on vocals; Florian Pilkington-Miksa on drums; Kirby Gregory on guitar; Chris Harris on bass guitar and electric upright bass; Robert Norton on keyboards; and Paul Sax on violin.
Other recent recordings by Curved Air include Retrospective (2010), a compilation of original recordings from 1970-1976 plus three tracks by Mask and 2012's Live Atmosphere with live recordings from 2010 and 2011.
The splendid North Star validates the new version of Curved Air as a solid progressive rock act. Kudos to Sonja and her colleagues for keeping the progressive rock spirit alive.
Buy North Star in North America
Buy North Star in Europe