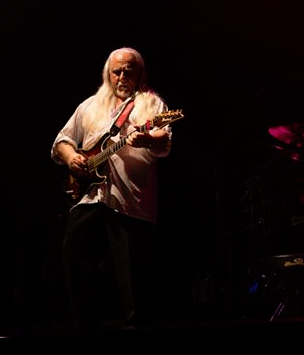 Rovescio Della Medaglia is one of the essential Italian symphonic progressive rock bands from the 1970s. Their best known album was album Contaminazione, a fine example of rock fused with the music of Bach.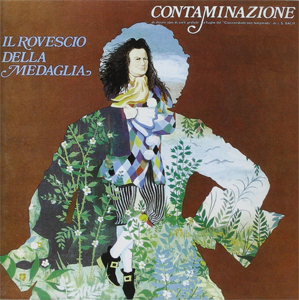 Guitarist Enzo Vita put the band back together in 2013 for a special concert in Tokyo. Il Rovescio Della Medaglia played Contaminazione in its entirely and has released the recording this year as Live In Tokyo
Enzo Vita discusses Rovescio Della Medaglia's history with Progressive Rock Central.

Can you give our readers a brief history on how the band was formed?
The story of Rovescio Della Medaglia began the day I was tired of playing covers
What do you consider as the essential elements of your music?
Classical music unconsciously incorporated and rock music throughout the period 1958/1978.

Who can you cite as your main musical influences?
Anything happening in that time frame.

Tell us about your first recordings and your musical evolution.
Practically I was using an amp with no effect (my guitars for La Bibbia were recorded live in about 2 hours). and my musical evolution has freed itself always more studying as well as I do today.

Italy produced many excellent progressive rock groups in the 1970s that introduced a new perspective to progressive music. Why do you think there were so many bands and musicians in Italy doing this?
'Cause in Italy we were looking for our way both musically and culturally but the enviroment did not allow anything except that which was imposed.
Rovescio della Medaglia released several album in the 1970s, La Bibbia (1971), Io come io (1972), Contaminazione (1973), Contamination (English version of Contaminazione, 1975). Why did the group disband after that?
'Cause the musical evolution inevitably leads to the separation of musical intentions and if you do not have the same goals, in the end, everyone goes their own way.
What did you do during the late 1970s and 1980s?
In '77 I was asked to meet Peter Gabriel in London but I delayed the meeting, and Peter went on tour in the USA with another guitarist, then in '78 I worked in the theater with producer David Zard in a play entitled "Tutti liberi". Then I worked in nightclubs for about six months, and finally I accompanied on tour a few Italian singers and tired of all this I took a pause.

A new album titled Giudizio avrai came out in 1988. Who participated in this recording?
This is a bootleg!
Two other albums came out in the 1990s, Vitae (1993) and Il Ritorno (1995).
In truth the albums "The Return" and "Vitae" are just one album, but because of some target errors made by the production company, I had to partly deny their fatherhood and were sanctioned by the court, then I started to self my stuff and I realized "Microstorie" released in 2011 by Sony, and now I'm recording another album tentatively entitled "Tribal Domestic" featuring me on lead guitar, John Macaluso on drum, Fernando Petryon bass and Chris Catena on vocals, plus some other great musicians.
Japan seems to play an important role in progressive rock. How important is Japan for you as an artist?
Japan is the land of opportunities and freedom of expression.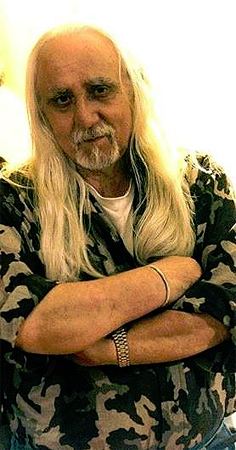 Your are the only original band member left of Rovescio della Medaglia. How did you connect with the new members of the band? What's their background?
I founded Rovescio Della Medaglia and it is my artistic brand. For Japan, I've put together a band. We rehearsed the set list and went to play. This backing band already existed as a separate entity with its own target.
If you could gather any musicians or musical groups to collaborate with whom would that be?
The ones who let me be free to express myself artistically.
What guitar types and models do you use?
Gibson, Fender and Ibanez
How many guitars do you have?
Three

Do you still have some of your old guitars?
Yes, I have an handmade one crafted to perfectly fit my hands.
Who are your favorite guitar players?
There are many and among them worth to mention is Allan Holdsworth, Steve Vai, Andy Timmons, Scott Henderson, Guthrie Govan, Joe Satriani, Tommy Emmanuel, Edward Van Halen, but I used to listen to anybody since each one is a world unto itself.
How's the progressive rock music scene in Italy now?
I am not following the scene…though there are several talented musicians and bands. I like pianist Stefano Bollani.

What music are you currently listening to?
Throughout the years I did not change the way I listen to and judge music and I listen to any kind of music but I don't like everything and this is normal, I think.
What new projects are you working on?
As mentioned earlier, I am working on a new album entitled "Tribal Domestic" and I am planning to come to Los Angeles in order to follow the mixing process next August.