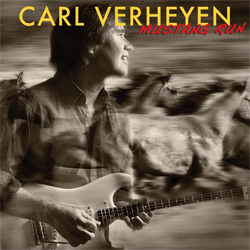 Carl Verheyen
Mustang Run (Cranktone Entertainment, 2013)
Virtuoso guitarist and composer Carl Verheyen is one of the most reputable session musicians in the West Coast as well as an educator. On his new solo album Mustang Run he takes the listener on a voyage across several music genres accompanied by an excellent roster of musicians.
Mustang Run begins with one of the finest cuts on the album an excellent blues-rock piece titled 'Taylor's Blues' where Verheyen on guitar and Jim Coxx on Hammond B-3 organ deliver memorable performances.
Another highlight is 'Fusioneers Disease.' As the title indicates, this piece is a real treat for jazz-rock fusion fans. Verheyen demonstrates his outstanding skills along with his formidable colleagues Simon Phillips on drums, Cliff Hugo on bass and Jim Cox on organ and piano.
On 'Riding the Bean', Verheyen ventures into exciting instrumental progressive country-rock. If you like the Dixie Dregs sound, you'll certainly enjoy this composition.
Verheyen gets dreamy and exotic on the slow tempo 'Passage to Run' with sitar, electronics and beautiful melodies.
More great fusion appears on 'Fourth Door on the Right' with Bill Evans as guest on saxophone.
The final stand out track is the last piece, yet another excellent blues-rock track titled 'Spirit of Julia.'
"My goal was to break out of the mold of Carl Verheyen Band CDs and do a progressive instrumental album," says Carl about Mustang Run. "I wanted the opportunity to weave thick textures of sound using dozens of instruments and tones. My motivation was the sheer joy of hearing those sounds in the air!"
The line-up on Mustang Run includes Simon Phillips on drums, Chad Wackerman on drums, Jerry Goodman on electric violin, Bill Evans on sax, Jimmy Johnson on bass, Dave Marotta on bass, Jim Cox on keyboards, Cliff Hugo on bass, Walfredo Reyes on drums and percussion, Dane Little on cello, Bernie Dresel on drums, Stuart Hamm on bass, Mitchel Forman on keyboards, Gregg Bissonette on drums, John Helliwell on saxophone, and Jessie Siebenberg on keyboards.
"My previous CD called 'Trading 8s' was a collaboration with some of my guitar player friends. I had Robben Ford, Joe Bonamassa, Steve Morse, Scott Henderson, Albert Lee and Rick Vito trading solos with me," says Carl. "On 'Mustang Run' I wanted that inspiration to come from the rhythm section, so I called different bass players and drummers to suit the songs. I love to play with musicians that I have a deep musical relationship with, because the studio scene in LA breeds hundreds of 'casual' musical relationships. The great players on 'Mustang Run' are all friends that I've known and performed with for years."
In support of his new album, Carl will be touring Europe in the fall 2014. His band will include bass virtuoso Stu Hamm and drummer and percussionist John Mader.
Buy Mustang Run