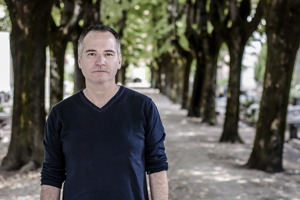 "Il Mondo Che Era Mio" – Live In Studio 2014 is the title of a new recording by famed Italian progressive rock artist Fabio Zuffanti.
Fabio is currently working on the mix of this live album that will be released later this year on the AMS label. Il Mondo Che Era Mio is a "live in the studio" recording of some of the songs that Zuffanti and the ZBand have performed live in concert in Italy, Belgium, the Netherlands and Canada.
The album will feature songs from the latest acclaimed Zuffanti solo album "La quarta vittima" along with a selection of songs of Höstsonaten, Finisterre and Maschera Di Cera.
Zuffanti + Zband inckudes Martin Grice on sax, flute; Matteo Nahum on guitar; Giovanni Pastorino. On keyboards; Paolo "Paolo" Tixi on drums; Fabio Zuffanti on bass, bass pedals, vocals.
Tracklist:
– In Limine
– Una Sera D'Inverno
– Rainsuite
– La Quarta Vittima
– Orizzonte Degli Eventi
– Non Posso Parlare Più Forte
– La Notte Trasparente