Eclectic Minneapolis band The Galactic Cowboy Orchestra recently performed at ProgDay 2014. The group includes four gifted musicians: Lisi Wright on electric violin and lead vocals; Dan Neale on guitars and vocals; John Wright on bass and vocals; and Billy Thommes on drums, percussion, and vocals.
Lisi Wright and her colleagues provide details about the band to Progressive Rock Central's readers.

Can you give our readers a brief history on how the band was formed?
The band started in 2009 when bassist John Wright decided he wanted to compose technically-challenging, instrumental music. He had just been away from it too long and was jonesin', so he and our previous drummer, Mark O'Day, started jamming on gigs (we were the backing band for a Grand Ole Opry Tribute show. Ha!) and then they started rehearsing with guitarist, Dan Neale, and composing. The first rehearsal tape John brought home to me (we're also married) was of Odd Men Out. I was a new prog rock fan, John introduced me to it, but I totally dug that piece of music! John said that he wanted one more person in the band, a melody instrument, so I immediately said, "Me! I'll do it!" He actually told me that I wouldn't be able to handle it. He thinks that's pretty funny now. 😉 At any rate, I persisted and they let me "audition." First time I ever played a solo in 7… definitely not the last.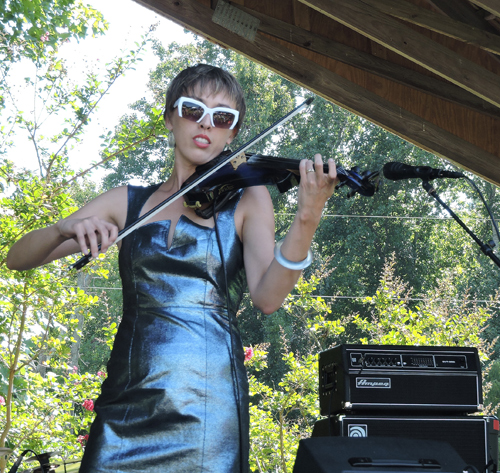 What do you consider as the essential elements of your music?
A diverse mix consisting of Bluegrass, 70's era Progressive Rock, East Indian, Metal, Blues, and Alien.
Who can you cite as your main musical influences?
This band is very much dependent on the individual player influences and how it melds together into something new. SO, here are influences by player:
Dan (guitars and vocals): My main musical influences are numerous but if I had to give few that I sound a bit like those would be: Chet Atkins, The Allman Brothers and Roy Buchanan.
Lisi (violin/fiddle and vocals): Other violinists: Jerry Goodman and David Cross. My fave bands: Rush, Soundgarden, Tool, King's X and Collective Soul are all right up there… and The Beatles… and Queen… This is hard! My nostalgic band/artist faves are Willie Nelson, Billy Joel, Metallica, GNR, The Oak Ridge Boys, Bob Dylan.
John (bass and vocals): Jethro Tull, Yes, King Crimson, Fairport Convention, Steeleye Span, Beatles, Early Music
Billy (the new guy! Drums, electronic percussion and vocals): Too many to mention. I'm influenced by any artist that has something original to say.
Tell us about your first recordings and your musical evolution.
The four original members were playing together as the backing band for a Grand Ole Opry Tribute and also playing out together as The Greazy Biscuits, a country/blues cover band. The first GCO album ever was originally a Greazy Biscuits album called, Skillet For Frying… hence the frying pan on the album cover. When we evolved to a technically and musically diverse band, The Galactic Cowboy Orchestra, we renamed that album Songs We Didn't Write: Vol. 1 and released Lookin' For A Little Strange not long after that (in late 2009).
What musical section did you present at ProgDay 2014?
Naturally, we performed more of our music that falls into the Progressive Rock category. You know, the crazy stuff! We were freakin' psyched!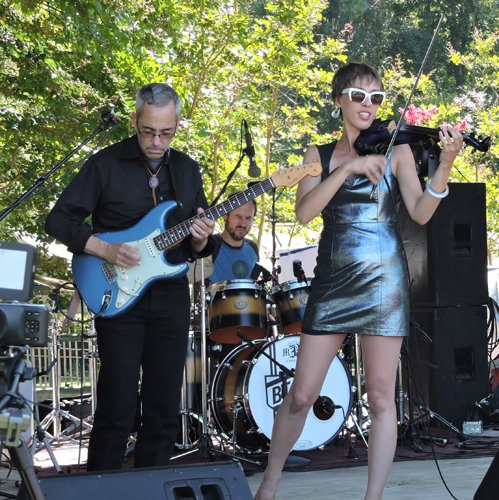 How's the current progressive rock scene in your part of the country?
Although there's not really any Prog Rock "scene" in the Minnesota, there is a very strong presence of excellent musicians of all styles of music here in the Twin Cities.
What musical instruments do you use?
Dan:
'62 Custom Shop (re-issue) Fender Stratocaster
Taylor 812 acoustic guitar
Taylor T5 acoustic semi hollow body
1968 Moserite Ventures Model electric 12 string.
Lisi:
Bridge 5-String Lyra Violins (endorsement)
John:
Fender Jazz Bass
Fernandes 8 String Bass
Billy:
MBW (endorsement) and Slingerland Drums
Sabian Cymbals (endorsement)
Evans Drumheads (endorsement)
Vic Firth Drumsticks (endorsement)
Nord Drum 2
Soon to be incorporating a Roland SPD-SX Sampler.
What effects do you use?
By player:
Dan:
Voodoo Labs Sparkle Drive pedal
Flashback Delay Pedal
Lisi:
TC-Helicon Vocal Processor
Mad Professor Mighty Red Distortion
Boss Dynamic Wah
Boss Harmonizer
Digitech Delay/Looper
John:
Distortion
Delay
Envelope filter
Chorus
If you could gather any musicians or musical groups to collaborate with, whom would that be?
Dan: I would work with anyone who liked the band, pretty much. The musicians I would ask for outright would be Chuck Leavell and Jimmy Herring. They are both legends in more than one "school" of music.
Lisi: I want to go hang out with Jerry Goodman for a week. I also have a fantasy of getting a call from Ray Daniels asking if I would sit in with Rush to play Losing It. Then, I'm like, hey, Rush, I can play YYZ too and they're like 'oh, cool, play that with us too!' That's a dream I've had… more than once.
An actual collaboration that we're psyched about: we'll be playing with the Austin (Minnesota) Symphony Orchestra and the Dakota Valley Symphony Orchestra (Burnsville, Minnesota). Conductor, Stephen Ramsey is collaborating with us on 6 pieces of music and we're playing with them. To cap it off, my private violin instructor from elementary and high school, Sue Radloff, is the concert mistress. Full circle moment.
Do you have any upcoming projects to share with us?
Yup! We're working on our 4th original (6th total) album, due out in early 2015!
Discography: